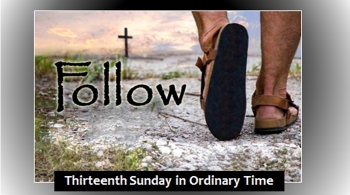 June 26, 2022
In our gospel reading this Sunday we hear the radical demands that Jesus makes on those who want to follow him. We might think that perhaps these demands are for people with special vocations, like missionaries and religious. Yet they are meant for every disciple, including each of us. Once we follow Jesus, we have to be consistent. We have to love even when it demands sacrifices, we have to be honest through and through. But if we can do this, we will see how happy and free this makes us. We ask the Lord that we may follow him always.
Diocese of St. Catharines: Synod 2021 - 2023 Consultation Summary Report
This week the Diocese of St. Catharines issued their Consultation Summary Report, which synthesized the results of the man

y listening sessions that occurred as part of the Synod 2021-2023 across the Diocese. For the full report, please visit our parish website, where it is available on the home page. It has also been included in this week's email bulletin to all those on our parish email list. Below is simply the summary included in the larger report.
Summary of the Major Themes and Topics Identified by the Reporting Committee
Quelling Fear and Judgment
The session notes regularly identified fear as one of the main factors that people do not speak up or become involved in the life of the parish: fear of being judged, fear of not knowing their faith or parish/diocesan procedures, fear of offending someone who thinks differently, and fear of confrontation were often identified. This fear must be replaced by the unconditional love of Christ.

The Pastor/Bishop as Leader and Shepherd
As the bishop is the shepherd, teacher and spiritual leader of the diocese, the pastor assumes these essential roles within the parish. The inherent gifts and strengths of priests and deacons, their leadership styles, and ongoing formation and training for the many roles and duties they fulfil, must be attended to. The skill to prepare and present homilies that connect scripture and Church teachings to daily life, and the art of team building: to invite, inspire, engage, mentor, and manage conflict. Like the People of God whom they serve, their priestly vocation is one of life-long learning and deepening spirituality.

Improving Collaboration and Promoting the Laity (especially women) in Leadership
"This is our church, not the priest's church." Heard often in the sessions across the diocese was this idea - perceived or real - that the People of God were not consulted when it came to decisions and governance within the parish. This was also identified as a concern at the diocesan level, within the diocesan offices and the ineffectiveness of some of the pre-existing regulating and working structures for clergy (i.e. the College of Consultors, the Council of Priests, and the Deanery Meetings). The growing need for volunteers to serve in ministry and within lay apostolates must be addressed. Aging members who have given so freely and generously need to be replaced; ongoing training including certification programs (ie. Youth Minister; Master Catechist) must be provided.

Improving Communication
COVID forced many pastors and pastoral teams to learn and embrace new technologies and social media to connect to their community during lockdowns. The use of virtual meeting Diocese of St. Catharines platforms must continue, in conjunction with in-person meetings that promote relational ministry more effectively. Greater consistency across parishes regarding technology, better systems and procedures for sharing information need to be introduced and monitored at the diocesan level to allow for equitable access. All partners of our local Church need to ensure that the information they share promotes a Catholic worldview true to the virtues and teachings of the Church.

Need for Healing
Many participants voiced a sense of loss and grief; as life dominated by COVID seemed to have paused, there was no means to gather to share and comfort each other face to face as our tradition encourages. The time spent getting to know each other's stories within the synod sessions, in the respectful listening and sharing of Spiritual Conversation method allowed for the Holy Spirit to enter and begin this healing. Small group Healing and Hope services could easily be organized and become models of synodality in parishes.

Creating Parish Cultures of Welcome and Belonging
Over and over again in the local listening this idea of welcoming each other, especially newcomers joyfully, calling people by their names, and taking time after mass to chat contributed to building community in parishes. Having pastors and hospitality ministers who smile, greet people warmly, and offer assistance to those with mobility issues or children help set the tone and make people want to come back and join the parish. Personal invitations, especially by pastors and pastoral team members to become active in ministry and clear expectations regarding what is expected in the commitment, especially with time, is appreciated. Providing opportunities for people to pray and learn about their faith outside of mass and socialize at Coffee Sundays, Pasta Dinners, Parish Picnics promotes belonging.

Providing Opportunities for Evangelization, Catechesis and Discipleship
The Church needs to first understand where people are at in their life and faith journey, and walk with them with respect, compassion and gentleness. All those in Church leadership - bishops, priests, deacons, lay leaders - need to check their own assumptions and biases, and adopt an attitude of asking, "What do you need?" Pastoral care that connects people with similar lived experiences allows their witness to model what the Church and life in Jesus Christ can offer. After all, people don't know what they don't know. Access to appropriate and varied adult faith formation experiences and leadership training was one of the suggestions by the young adults who on their faith journeys had positive experiences with CCO resources and mentoring. This means that the diocese needs to organize more opportunities for ongoing formation, professional development, and certification programs for the People of God. Forming knowledgeable catechists, small group and ministry leads must become a priority.

Strengthening School - Parish Partnerships
Comments, both positive and negative, about Catholic Education and interactions with Catholic educators regularly appeared in the session notes. Pastors and parish catechists who were active and visible in the schools (i.e. who celebrate school masses, who pray the rosary, who help prepare students for the sacraments) are witnesses and do have influence to bring families to the life of the parish. School clubs which focus on faith, like the FIAT (Faith in Action Teams) Diocese of St. Catharines or Chaplain's Crew provide opportunities to learn about their faith and social justice outreach in active, fun and student-led ways. Teachers, using the ACBO approved Religious education and School Chaplains regularly include parents and the parish communities in faith-based projects.

Outreach and Ministry to Youth, Young Adults and Families
It was generally agreed that outreach to our teenagers, their parents as first teachers of the faith, and young adults is needed. Almost every session commented on their absence from regular participation in Sunday mass. From the Student Leaders, Young Adult and Campus Listening Sessions, commitments to building strong personal relationships and answering questions about their faith are very important. Identifying potential Youth Ministers, sponsoring their certification and arranging paid employment in clusters of parishes needs to be a budget priority. Young people want to be equipped with how to defend their Catholic faith and how to have better dialogue with people who disagree. They want to be prepared to live their faith and have access to quality resources to allow this learning to occur independently.

Bridging Division
Only in humility, with open hearts and minds, can listening and courageous conversations begin to build bridges between the different perspectives to bring a shared vision of the Church.

Conclusion: Synodality as a Way Forward - Where do we go from here?
Our plan is to share this Diocesan Synod Consultation Summary with pastors, listening session facilitators and through a summer series of 'Church Hall' meetings across the diocese. We will gather more formally in a Diocesan Synodality Summit on September 24, 2022 to prioritize and begin brainstorming goals based on this report and previous data collected pre-COVID to develop a new, multi-year diocesan pastoral plan.

Respectfully submitted on June 17, 2022 Diocese of St. Catharines Synod Planning Committee (synod2021@saintcd.com) ⧾Bishop Gerard Bergie, Co-Chairs: Fr. Paul MacNeil, Terri Pauco; Fr. Patrick Gilmurray, CPpS Margaret Jong, and additional members of the Review & Reporting Sub-Committee: Kailey Meehan, Theresa Murphy
St. Kevin's Catholic Womens League News:
As we enter the much awaited season of summer, a huge thank you goes out to all ladies who have supported the CWL this year. It was a strange year again with covid but remember this inspiring quote from St. Francis of Assisi - "A single sunbeam is enough to drive away many shadows."
We have finished off our year with our annual Christian Unity Awards to Notre Dame, Alexander Kuska, Holy Name and St. Kevin's Schools. They will receive these awards at their respective graduations.
There is still room for anyone wanting to attend the Blanket Ceremony (information previously sent out). Please contact Lisa Fillingham at lisafillinghamcwl@outlook.com for this presentation at Star of the Sea Parish on Monday, June 27 at 11:00am. You must pre-register.
Also, mark these dates on your calendar for the fall: Mass and Pin Presentation Ceremony and Wine and Cheese Social on Thursday, September 1, 2022 7pm. Fish Fry Fundraiser date TBD. Diocesan Advent Retreat at Mount Carmel Thursday, November 24.
Bless you all and see you in September!
Happening This Week:
The Holy Name Society will meet this Tuesday, June 28th at 7:00pm in the Hospitality Room.

Friday, July 1st is Canada Day. Morning Mass will remain at 9:00am. The Parish Office will be closed.
Q & A with the Parish Team:
Back in 2018/2019 (seems like a lifetime ago!) we put out a little series in our Parish bulletin called: Q & A with the Parish Team. The intention was to answer some simple questions about the goings-on at the Parish, to clear up some potentially confusing housekeeping info, and also to make Parishioners a bit more aware of the 'method to our madness' as they say. We even invited Parishioners to submit questions that they want answered. Topics included things like how to book a Mass intention, how to arrange for the Sacrament of Anointing, what the requirements for Godparents are, how to begin planning for a wedding at St. Kevin's, and when the church is open for personal prayer – to name a few.Now, in this reopening phase of our Parish life, we are going to revive the series! We may include some of the earlier submissions as a refresher, but lots of new ones will be addressed in the coming weeks. Eventually, we may get into more theological topics but for now we will keep it simple. So let's get to it and be sure to submit any questions you may have to stkevinoffice@gmail.com !
Q: How do Mass Intentions work at St. Kevin's and how do I arrange one?

*Mass Intention / Mass Offering / Having a Mass 'Said' – these terms are often used interchangeably

A: This is such a good topic to cover and there is so much to discuss! A Mass Intention here at St. Kevin's is either for someone who has passed away or for a special intention. An intention for someone who has passed away means that the person's name will be mentioned by the Priest during the Eucharistic Prayer. Mass intentions (for both deceased and special intentions) are said Monday-Friday at our 9:00am Masses and Saturday evenings at our 5:00pm Masses. We do not have Mass Intentions on Sundays.

           

Having a Mass 'said' in memory of someone significant in your life is a wonderful way to honour their memory. We have a slightly different process for booking a Mass depending on how long a person has been deceased. If they have passed away within the last year then we can book one intention per day at any of our weekday Masses (9:00am Masses) and our Saturday evening 5:00pm Mass. We allow so many days for these intentions because, unfortunately, we have so many Parishioners pass away each year and so many loved ones wanting to have a Mass offered for them. If your loved one has been deceased for more than one year then we can either book up to three of these intentions on Monday morning at our 9:00 Mass or on Saturday evening at our 5:00 Mass. We tend to refer to those Masses as anniversaries. Often they are booked close to the person's birthday, date of passing, or other important days in their lives. So – if your loved one has been deceased longer than a year then we restrict those Masses to either Monday at 9:00am or Saturday at 5:00pm. As a Diocesan rule – we can only have collective (multiple) intentions on two days per week. The other days are singular.


           




           

Special Intention Masses are offered for those who are still with us but whom we want to pray for. For example, these Masses may be offered for someone who is in the hospital, someone who may be going through a difficult family situation or even someone who is having a significant birthday/wedding anniversary. For a number of reasons, including privacy, we only publish/say 'Special Intention.' We do not mention the name or reason for the Mass.

We encourage our Parishioners to visit our Parish Office, during office hours, to arrange for Mass Intentions. This way we can check if certain dates are available for you, we can officially book your requests, and we can provide a Mass Card (if you wish to notify a friend or family member of the upcoming Mass Intention). Although some churches publish who requested which Masses, we do not. Lastly, we ask for a donation of $10 for a Mass Intention and $1 for a Mass Card.

When it comes to booking anniversary Masses (or Masses for someone who has died many years ago) often our Parishioners unknowingly assume that the best time to come into the office to book Mass Intentions for a new year is to come in at the end of the previous year (ex. many came in late December of 2021 to book their Masses for 2022). Although well intentioned, late December is not a very good time! As you can imagine, we are extremely busy in the Parish Office in December with the Christmas season and with year-end administrative work. Given that we have our Mass book nearly a year prior, you can come well in advance! If you would like to book Masses for 2023 you can do so at any time but we encourage you to come by the office during our office hours over the next few months. By visiting us in the summer and fall, it will ensure that you book early and avoid the Christmas/New Year rush! Thank you!

           

Q: My family and I just moved to the area two months ago. We want to be a part of St. Kevin's, how do we go about it?

Q: My wife and I attend Mass most weeks and we usually just place some cash in the collection basket when we are here. Will we receive an income tax receipt for that?

A: Great question and we know that a lot of families have recently joined our Parish, so we hope this helps. First and foremost, welcome! You can certainly join us for any of our Masses, liturgies, and events. Just by being here you are already a part of our community and we are happy to have you with us. However, we strongly encourage you to become officially registered with us and the registration process consists of a very simple form that we ask you to complete so we have some basic contact information and details about you and your family. There are a few ways to register:

1. Stop by the Parish office and you can do so in person. It only takes a few moments. We can answer any additional questions you may have and get acquainted. We would be happy to show you around, get you familiar with our Mass times, and should you need to arrange anything (ex. a house blessing) or wish to become involved in Parish ministry in any way, we could assist you.

2. Email us and we can send you a form that you can complete and email back.

3. You can pick up a registration form in the foyer OR a box of envelopes* that contains a registration form – located on the top shelf of one of the bookcases located in the foyer. As you walk into the foyer from the church, you will see it on your right. You can bring the completed form to the office or even place it in the collection basket.

So what do we do with your information?

We input it all into our Parish database.
We will be sure that you are added to our mailing/email lists so that you receive all of the latest Parish updates. Down the line, if you request a Sacrament or a Pastoral Reference, for example, knowing that you are registered in the parish is a huge help and we can quickly look up your information. If your child makes a Sacrament with us (ex. First Communion), we enter all of that information into your family's file too (as well as our registers). Additionally, should you wish to financially contribute to the Parish, we track all of your donations and issue an income tax receipt yearly. But the topic of donations leads us to another question…

A: We always wish to credit everyone for the donations they make. In order for us to credit you for what you submit in the collection – we encourage you to use our Parish envelopes. Or we at least ask that you put your donation in a clearly labeled envelope with your name and address. Unfortunately, we cannot issue a receipt for loose cash (not labeled) that is placed in the basket.

*So, how do you obtain a box of envelopes?

1. You can visit us at the Parish Office and we can certainly give you a box.
2. You can find the unassigned boxes of envelopes for new parishioners also on the top shelf of the right bookcase in the foyer.

We ask that the first couple of times you use your envelopes, to please write your name and address so we can be sure that your information and your envelope number are linked. After you do so a few times, you need not fill out every envelope in full.


We appreciate every donation and take our fiscal responsibility as a Parish very seriously.

When it comes to making a financial contribution to the Parish, there is no one size fits all. This is one of the reasons why we do not automatically assign you a box of envelopes when you register with us. As much as weekly donations are great and our boxes of envelopes are designed that way, we know that some people choose to donate once a month, once a year, or sporadically. We also know that some people donate solely to a particular cause or ministry (ex. Share Lent or St. Vincent de Paul) and some prefer to donate anonymously.
Please be assured that any donation, no matter how big or small, all works together to help us continue to share in sacred worship, to support all of the various initiatives we do, to serve those in need in our community, and to maintain the overall infrastructure of our church. Each and every contribution is much appreciated.

A Note on Safety & Security Cameras
Over the last few months there have been some disconcerting encounters in our neighbourhood, as well as in and around our building. After a long time coming and considerable discernment, we have now installed security cameras around the building perimeter. As a general reminder to Parishioners, please practice sound safety habits, including locking vehicles and keeping belongings nearby. If you have any concerns or if you notice anything amiss, please inform our clergy or staff immediately.
Please remember the Poor Box as you leave the Church.
Worth repeating:
Creating Three New Areas for Persons with Disabilities.

Area #1 – The choir seats. Except for the 10:00 Sunday morning Mass, the choir seats go empty. So – for all Masses except for the Sunday 10:00 Mass there are several places available; choir seats have been arranged creating space to easily accommodate walkers. A bonus here is that outside of the Sanctuary, these seats are the most comfortable seats in the church.

Area #2 – The pew immediately in front of the baptismal font. There are places in this pew easily for three persons and perhaps four persons with walkers. The "disability" sign is attached to this pew. Adjacent to the font as well, there is space or two for two persons in wheelchairs.

Area #3 – The last pew on the side of the church opposite the confessional /reconciliation room. This pew has been altered to create more space for walkers. It can accommodate three walkers comfortably. There is a place adjacent also perfect for a wheel chair. The "disability" sign is attached to this pew.

Two further points!

At each Sunday Eucharist, a Minister of the Eucharist will bring Holy Communion to the handicapped areas.

All parishioners are asked to please respect these designated areas as places for persons with disabilities.

The Stewardship Committee's decision is clear that we must respect safety and fire codes. The foyer chairs against the back wall unfortunately, violate the fire code. Our hope is that designating these three new areas for persons with disabilities will be satisfactory. Thanks very much for your cooperation.
Catholic Marriage Tribunal
If you are considering remarriage in the Catholic Church at some point, or hoping to enter a marriage with someone previously married, please speak to a priest, or contact the Diocesan Catholic Marriage Tribunal in St. Catharines at 905-687-8817. Information Pamphlets are available through the parish.
PLEASE READ THIS IMPORTANT NOTICE:
Due to the privacy laws, the hospital does not list our parishioners by address or parish unless you state your religion as ST. KEVIN PARISH when you are admitted. It would help the parish visiting team if when the hospital asks religion – you respond ST. KEVIN'S PARISH. If you or a family member enter a hospital for several days please be sure to call the parish office to let us know if you wish a visit. If you wish the Anointing of the Sick before an operation, either at home or while in the hospital, be sure to inform the parish office. A priest will come as soon as possible to administer the Sacrament of the Anointing of the Sick. We also have a group of lay people from our parish who each week visit or bring communion to Catholic parishioners in the hospital. Please, we need to know that you are there!
A Review of Some Parish Policies
Requests: We often receive requests for baptism or marriage, or Pastoral References for teachers, who are not members of St. Kevin's Parish. Examples would be: They might like our church and so want to get married here although they live elsewhere. Or: they were baptized here and so they would like their child to be baptized here although they live elsewhere. Or: I went to Notre Dame College School. The main point here is "they live elsewhere". Now – wherever elsewhere might be, there is a Catholic parish there. Our policy is to minister to the parishioners of St. Kevin's. We have more than 3400 families; there is a lot of ministry work for us to do here. Our focus and attention is first and foremost on our own parishioners.

Parishioners should be registered: And here it is important to remember – that all of our parishioners should be registered in the parish, that is, on our books with names and phone numbers and addresses.

Young Adults: There is a point when the young person must register in our Parish. It does not suffice to say my parents are members of St. Kevin's and I was confirmed at St. Kevin's when that person has been living on his or her own. The young adult should not depend on the faith and loyalty of parents or grandparents but must take ownership of his or her own faith. That means, as well, the young person should be engaged in the financial support of the Parish.

Support of the Church: One of the precepts of the church – parishioners should be generous in supporting the material needs of the church. Today, we do this best by regularly using envelopes to help with the expenses of administering a very large parish such as St. Kevin's.

Needing a Letter of Permission: Hospitality is a wonderful characteristic of St. Kevin's Parish. And we do want to be open and hospitable to folks who are not registered members in the parish. Yet – we must be careful to observe church laws and regulations. We will consider doing a marriage or a baptism of those folks from elsewhere. But – we must ask that the person or persons making this request of us have a "letter of permission" from elsewhere, that is, from the parish in which they are actually living - a letter from the Pastor of that parish giving us permission to do the baptism or marriage. Without such a letter of permission our policy must be to refuse to do such baptisms or marriages.

Weddings: To be married in St. Kevin's, one should be registered in the parish. Please call at least six months in advance to make arrangements. If not a registered member of our parish, we must have a Letter of Permission from the Pastor in which the person(s) is registered. (See above.)

Baptisms: To be baptized in St. Kevin's, one should be registered in the Parish. Please call as early as possible to arrange a baptism. If one is not registered, we must have a Letter of Permission from the Pastor in which the family is registered. (See above.)

Pastoral References for Teachers: Pastoral references for teachers are given for those persons who are registered in St. Kevin's Parish. The Pastoral Reference for teachers testifies that the person practices his or her faith regularly. Sunday Eucharist is the great Christian norm for the practice of the faith. The Pastoral Reference for teachers inquires as to how active the person is in participating in different dimensions of parish or civic life.

Godparents / Christian Witness for Baptism: At baptism, a Roman Catholic sponsor is called a Godparent. All Godparents for Baptism should be practicing Catholics. One of the sponsors at baptism must be a Roman Catholic, 16 years of age and already confirmed. A non-Catholic sponsor is called a "Christian Witness". (This presumes that the non- Catholic is indeed a practicing Christian and baptized in a Christian church). In choosing a Godparent for baptism, parents should keep in mind that a Godparent at baptism should also be the person's sponsor at Confirmation.

Confirmation Sponsors: A Confirmation sponsor must be a practicing Roman Catholic, already confirmed and 16 years of age. We ask the sponsor at Confirmation to have a brief meeting with the Pastor of his/her Parish. Simply inform the Pastor of your desire to act as a Confirmation sponsor at St. Kevin's and kindly ask the Pastor to sign the Sponsor Form. The Sponsor Form itself presents in a clear way the expectations for a Confirmation Sponsor.

Parish Pastoral Practice.
• If someone is seriously sick at home or in the hospital, please call the office. One of the priests will be happy to visit.
• If one is unable to come to Sunday Eucharist over a long period of time, please call the office and arrange for a communion visit on the part of our Eucharist Ministers.
• When spending time in the hospital, please indicate that you are Roman Catholic and a member of St. Kevin's.
REMINDER:
Are You Registered in Our Parish?

Please do not take for granted that you are registered in the parish just because you attend Mass here. If we have no record of your parish membership, it could be quite embarrassing to us, or to you or your family, when someone wishes to make wedding plans, have a baby baptized, or if you have been asked to act as a sponsor for baptism or confirmation. Please fill out a registration form. This form is on the shelf in the book stand in the foyer of the church. When you have completed the form, place in the collection basket or return it to the Parish Office