June 11, 2023

Most Holy Body & Blood of Christ
Many people have memories of the Corpus Christi procession when the monstrance with the Blessed Sacrament was brought around the parish. All groups in the parish were represented. Children scattered petals before the host and houses were decorated. The meaning of the feast was to bring the Lord into the streets of his people and to appreciate the gift he gives us of himself in the Eucharist. This procession still takes part in many places. On Holy Thursday we also celebrate the Eucharist, but in another way. It is more of the sacrifice of Jesus on Calvary. We unite ourselves with his offering that brought him to death, and look forward to the resurrection when the risen Lord would be present in many ways among people, including in the form and shape of bread and wine. On the feast of the Body and Blood of Christ, the emphasis is more on gift than on sacrifice. This is what he wishes to leave us as a gift forever. It is the way he could give himself forever in a very close way, so that this is his gift of 'food for the journey.' We need this gift. We need to know certainly that God is close with us in life, and the Eucharist at Mass gives us this certainty. We need to know that God is really present in our lives, and we know this in the real presence of the Eucharist.

(Courtesy of tkayala.com )

Lord in this Eucharist today I welcome you into my life; help me to live like you and love like you. Amen.
Sacred Heart of Jesus
The month of June, in the Catholic Tradition, is the month dedicated to the Sacred Heart of Jesus. On June 16th we celebrate the Feast of the Most Sacred Heart of Jesus. Remembering and reflecting on the Most Sacred Heart of Jesus means reflecting on the love of God for us. Pope Francis has said that it is easier for us to believe in our own love for God than it is for us to believe in God's love for us. So let us ask for two graces this month: first, the grace to be convinced of God's passionate love for each one of us personally, manifested in the Sacred Heart of Jesus; second, as we honor the Sacred Heart, may it inspire us to become vessels of His love to those around us.
The Concluding Rites of the Mass
An excerpt from "A Biblical Walk Through the Mass" by Edward Sri:

Holy Communion is the climax of our participation in the Liturgy. But it would not be fitting for the Mass to end abruptly at that point. After receiving Holy Communion, we have a need to transition, to prepare our souls to step out of this sacred time and place and go back into the ordinary routines of our daily lives.

What is most significant about the dismissal is that the whole Liturgy receives its name, "the Mass," from the Latin word missa ("dismissal" or "sending") in this closing line. This points to how the Mass is ultimately a sending forth. …Jesus told the apostles, "As the Father has sent me, even so I send you" (John 20:21). The closing line of the Liturgy, therefore, is not an aimless dismissal. It is a dismissal with a mission. It is a sending forth of God's people to bring the mysteries of Christ into the world.
Liturgical Hospitality - Usher Recruitment and Training Session
As we mentioned in last weekend's bulletin, we are very grateful to our ushers for all of their dedication to their role and especially for serving us so well during the offertory. We have many faithful ushers that we are appreciative of but we know there are a lot of new faces at Mass. We now wish to extend an invitation and welcome anyone who wishes to join in this important liturgical role!

If you are currently an usher, have done so in the past and would like to start again, or if you would like to become an usher - please visit the table in the foyer next weekend to sign-up! We ask that both NEW and CURRENT ushers sign-up so that we can obtain all contact information and verify the Mass time you wish to help at. There will also be an online sign-up option that will come out with next weekend's bulletin, in case anyone will be away next weekend.

Following the sign-up next weekend, we also invite both new and returning ushers to a brief training session on Wednesday, June 28th at 6:30pm in the church. We will review the key parts of the role to make sure everyone is confident and prepared for their ministry.

Serving or ministering at Mass in any capacity is a beautiful way to practice one's faith and it is so important for our lay ministry to be vibrant and inclusive. If you have ever thought about doing so or if you have before and would like to participate once again – the invitation to be an usher is open to all.
Closing School Masses
We are pleased to have all of the students and staffs join us here at the church as we celebrate our end of school year Masses with our three elementary schools this coming week. How quickly another year has gone by! We will have Alexander Kuska on Wednesday at 10:00am, St. Kevin on Wednesday at 1:15pm, and Holy Name on Thursday at 10:00am. A reminder that parents and grandparents are welcome to attend.
Summer Flowers
Thank you to Karen Bedard for planting and tending to our beautiful summer flowers located in the beds around the front of the church. Karen does this each summer for us and began in 2007! The vibrant pinks, purples, yellows, and greens add such a wonderful pop of colour to our grounds, which we truly appreciate.
St. Kevin's Senior Cards Club
The ST. KEVIN'S SENIOR CARD CLUB gathers every Thursday afternoon at 1:00pm in the Hospitality Room to play euchre and enjoy refreshments, conversation, and meeting other seniors. Their season runs from mid-September until the end of May, with their last session held on May 25th. It was wonderful to see this vibrant group gather each week, after many years where they could not. We wish all of the players a wonderful summer break!
Diocesan Needs Collection
This weekend we continue to take up the collection for Diocesan Needs – The Education of Seminarians and Clergy. Envelopes are available in the foyer and in the parish box of envelopes. We will keep this collection open for the next few weekends and we appreciate your generosity. Note: the envelopes look similar to the Pope's Pastoral Works collection we have been taking up but they do have a different header. Cheques should be made payable to St. Kevin Parish.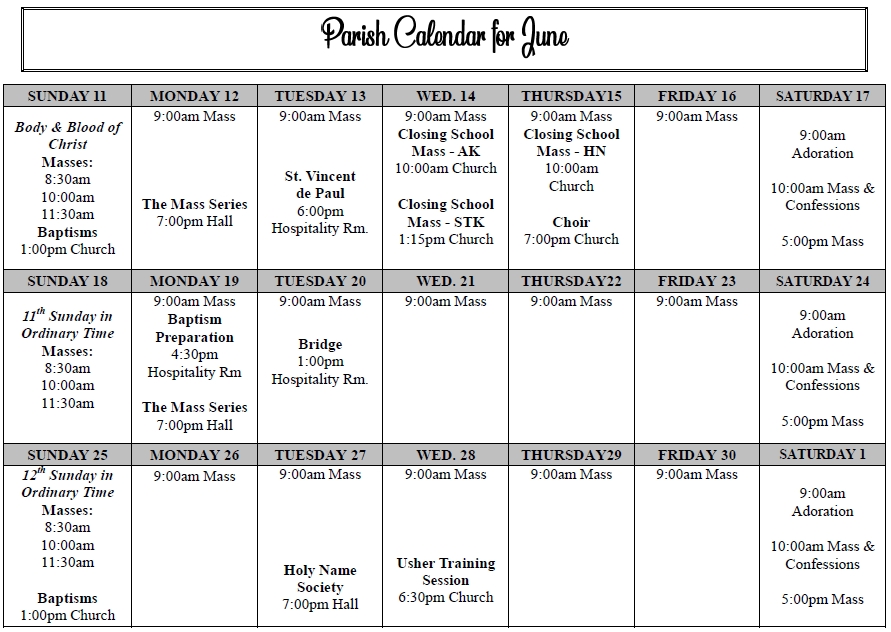 Please remember the Poor Box as you leave the Church.
Worth repeating:
Creating Three New Areas for Persons with Disabilities.

Area #1 – The choir seats. Except for the 10:00 Sunday morning Mass, the choir seats go empty. So – for all Masses except for the Sunday 10:00 Mass there are several places available; choir seats have been arranged creating space to easily accommodate walkers. A bonus here is that outside of the Sanctuary, these seats are the most comfortable seats in the church.

Area #2 – The pew immediately in front of the baptismal font. There are places in this pew easily for three persons and perhaps four persons with walkers. The "disability" sign is attached to this pew. Adjacent to the font as well, there is space or two for two persons in wheelchairs.

Area #3 – The last pew on the side of the church opposite the confessional /reconciliation room. This pew has been altered to create more space for walkers. It can accommodate three walkers comfortably. There is a place adjacent also perfect for a wheel chair. The "disability" sign is attached to this pew.

Two further points!

At each Sunday Eucharist, a Minister of the Eucharist will bring Holy Communion to the handicapped areas.

All parishioners are asked to please respect these designated areas as places for persons with disabilities.

The Stewardship Committee's decision is clear that we must respect safety and fire codes. The foyer chairs against the back wall unfortunately, violate the fire code. Our hope is that designating these three new areas for persons with disabilities will be satisfactory. Thanks very much for your cooperation.
Catholic Marriage Tribunal
If you are considering remarriage in the Catholic Church at some point, or hoping to enter a marriage with someone previously married, please speak to a priest, or contact the Diocesan Catholic Marriage Tribunal in St. Catharines at 905-687-8817. Information Pamphlets are available through the parish.
PLEASE READ THIS IMPORTANT NOTICE:
Due to the privacy laws, the hospital does not list our parishioners by address or parish unless you state your religion as ST. KEVIN PARISH when you are admitted. It would help the parish visiting team if when the hospital asks religion – you respond ST. KEVIN'S PARISH. If you or a family member enter a hospital for several days please be sure to call the parish office to let us know if you wish a visit. If you wish the Anointing of the Sick before an operation, either at home or while in the hospital, be sure to inform the parish office. A priest will come as soon as possible to administer the Sacrament of the Anointing of the Sick. We also have a group of lay people from our parish who each week visit or bring communion to Catholic parishioners in the hospital. Please, we need to know that you are there!
A Review of Some Parish Policies
Requests: We often receive requests for baptism or marriage, or Pastoral References for teachers, who are not members of St. Kevin's Parish. Examples would be: They might like our church and so want to get married here although they live elsewhere. Or: they were baptized here and so they would like their child to be baptized here although they live elsewhere. Or: I went to Notre Dame College School. The main point here is "they live elsewhere". Now – wherever elsewhere might be, there is a Catholic parish there. Our policy is to minister to the parishioners of St. Kevin's. We have more than 3400 families; there is a lot of ministry work for us to do here. Our focus and attention is first and foremost on our own parishioners.

Parishioners should be registered: And here it is important to remember – that all of our parishioners should be registered in the parish, that is, on our books with names and phone numbers and addresses.

Young Adults: There is a point when the young person must register in our Parish. It does not suffice to say my parents are members of St. Kevin's and I was confirmed at St. Kevin's when that person has been living on his or her own. The young adult should not depend on the faith and loyalty of parents or grandparents but must take ownership of his or her own faith. That means, as well, the young person should be engaged in the financial support of the Parish.

Support of the Church: One of the precepts of the church – parishioners should be generous in supporting the material needs of the church. Today, we do this best by regularly using envelopes to help with the expenses of administering a very large parish such as St. Kevin's.

Needing a Letter of Permission: Hospitality is a wonderful characteristic of St. Kevin's Parish. And we do want to be open and hospitable to folks who are not registered members in the parish. Yet – we must be careful to observe church laws and regulations. We will consider doing a marriage or a baptism of those folks from elsewhere. But – we must ask that the person or persons making this request of us have a "letter of permission" from elsewhere, that is, from the parish in which they are actually living - a letter from the Pastor of that parish giving us permission to do the baptism or marriage. Without such a letter of permission our policy must be to refuse to do such baptisms or marriages.

Weddings: To be married in St. Kevin's, one should be registered in the parish. Please call at least six months in advance to make arrangements. If not a registered member of our parish, we must have a Letter of Permission from the Pastor in which the person(s) is registered. (See above.)

Baptisms: To be baptized in St. Kevin's, one should be registered in the Parish. Please call as early as possible to arrange a baptism. If one is not registered, we must have a Letter of Permission from the Pastor in which the family is registered. (See above.)

Pastoral References for Teachers: Pastoral references for teachers are given for those persons who are registered in St. Kevin's Parish. The Pastoral Reference for teachers testifies that the person practices his or her faith regularly. Sunday Eucharist is the great Christian norm for the practice of the faith. The Pastoral Reference for teachers inquires as to how active the person is in participating in different dimensions of parish or civic life.

Godparents / Christian Witness for Baptism: At baptism, a Roman Catholic sponsor is called a Godparent. All Godparents for Baptism should be practicing Catholics. One of the sponsors at baptism must be a Roman Catholic, 16 years of age and already confirmed. A non-Catholic sponsor is called a "Christian Witness". (This presumes that the non- Catholic is indeed a practicing Christian and baptized in a Christian church). In choosing a Godparent for baptism, parents should keep in mind that a Godparent at baptism should also be the person's sponsor at Confirmation.

Confirmation Sponsors: A Confirmation sponsor must be a practicing Roman Catholic, already confirmed and 16 years of age. We ask the sponsor at Confirmation to have a brief meeting with the Pastor of his/her Parish. Simply inform the Pastor of your desire to act as a Confirmation sponsor at St. Kevin's and kindly ask the Pastor to sign the Sponsor Form. The Sponsor Form itself presents in a clear way the expectations for a Confirmation Sponsor.

Parish Pastoral Practice.
• If someone is seriously sick at home or in the hospital, please call the office. One of the priests will be happy to visit.
• If one is unable to come to Sunday Eucharist over a long period of time, please call the office and arrange for a communion visit on the part of our Eucharist Ministers.
• When spending time in the hospital, please indicate that you are Roman Catholic and a member of St. Kevin's.
REMINDER:
Are You Registered in Our Parish?

Please do not take for granted that you are registered in the parish just because you attend Mass here. If we have no record of your parish membership, it could be quite embarrassing to us, or to you or your family, when someone wishes to make wedding plans, have a baby baptized, or if you have been asked to act as a sponsor for baptism or confirmation. Please fill out a registration form. This form is on the shelf in the book stand in the foyer of the church. When you have completed the form, place in the collection basket or return it to the Parish Office